Uprising
Donald Sutherland

Hank Azaria

Leelee Sobieski

David Schwimmer

Jon Voight
Rarely seen is anything about Jewish Resistance in World War II. But it did occur in Warsaw, Poland. Uprising is the first American film to dramatize the Warsaw Ghetto uprising of 1943, during which an underground collective of Polish Jews dared to defy the Nazis. The Jewish resistance in Warsaw is one of World War II's ultimate tales of bravery, yet few people are even aware. Action packed and fast moving. (2001) Wide screen (5 stars) Recommended for Christians & Jews. Typical war genre violence to be anticipated.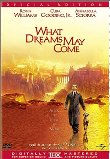 What Dreams May Come
Robin Williams

Cuba Gooding, Jr.

Annabella Sciorra

Max Von Sydow
I know this makes me sound like a "Sissy Boy", but I cried for the last 45 minutes of the film, as Robin Williams struggled to pull his wife from Hell.

I can't believe what an excellent "multi-layered" actor Robin Williams has become. I'm not thinking of his leading role in Popeye, but his most recent accomplishments in: One Hour Photo, Jakob the Liar, and now this --alongside Annabella Sciorra and Cuba Gooding, Jr. I hope Robin continues to perform in multi-layered pscyhological roles that honor the Creator God.

Robin Williams and Annabella Sciorra star in this visually stunning metaphysical tale of life after death.

Neurologist Chris and artist Annie had the perfect life until they lost their children in an auto accident; they're just starting to recover when Chris meets an untimely death himself. He's met by a messenger named Albert (Cuba Gooding Jr.) and taken to his own personal afterlife--a freshly drawn world reminiscent of Annie's own artwork, still dripping and wet with paint. Meanwhile a depressed Annie takes her own life, compelling Chris to traverse heaven and hell to save Annie from an eternity of despair.

The best sequence in this just may be how the evil entities just give up after they realize that Chrisy (Robin Williams) is earnestly trying to save another out of pure love.

1998. Widescreen. PG-13. BibleProbe: Highly recommended for Christians and Jews.