From Jew to Catholic, author finds his path a natural one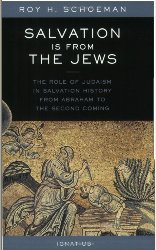 See at Amazon.com: Here


Once a Jew and now a Roman Catholic, Roy Schoeman says his spiritual journey follows much the same transition as Christianity's development from the seeds of Judaism.

"I haven't converted to another religion," he explains. "The Catholic Church is the continuation of Judaism. They are one and the same religion — the thing is the religion changed with the incarnation (God coming to earth in the human form of Jesus). It was always going to change."

Schoeman, author of "Salvation Is From the Jews: The Role of Judaism in Salvation History From Abraham to the Second Coming," will speak during the Arizona Marian Conference Aug. 24-26 at Doubletree Scottsdale Paradise Valley Resort. His talk to a Catholic audience is titled "Witness Testimony and God's Plan for the Jews."

Raised in a Conservative Jewish family where both parents fled Nazi Germany, Schoeman received solid Jewish instruction. His hometown spiritual leader was Rabbi Arthur Hertzberg, a foremost American Conservative rabbi, and his religion teacher was Rabbi Arthur Green, who would head the Reconstructionist Rabbinical College. And for several months, he lived in Israel with Rabbi Shlomo Carlebach, the late famed Hasidic rabbi, singer and well-traveled songwriter and teacher.

"Growing up, I was quite devout about my religion," he said. Schoeman enrolled in Massachusetts Institute of Technology, where he encountered a "very intellectually arrogant attitude that 'we know better than to believe in God, and we have scientific explanations for everything.' He went on to earn an MBA at Harvard Business School and later joined the faculty. During those years, he said, "I basically fell into sin. I adopted the kind of normal '70s college lifestyle, and under those influences, I basically lost my faith." He regarded himself as a Jewish agnostic.

Schoeman said his life hit bottom. "There was no meaning and purpose to life, and there was nothing more to look forward to," he recalls. Then while walking on an empty beach in 1987, he suddenly felt God's love and presence. It triggered a deep quest to pursue knowing God. The following year, he had a long dream in which the Virgin Mary spoke with him and answered questions. He ended up realizing it was Christ who had come to him in the beach encounter — "and that I was now a Christian," Schoeman recounts on his Web site.

"This completely consumed me when it happened." He left teaching and devoted himself to writing and speaking about bridging the two monotheistic faiths.

With his realizations, Schoeman studied theology at several seminaries, began hosting a talk show on a Catholic TV network and wrote two books, his latest, "Honey From the Rock: Sixteen Jews Find the Sweetness of Christ." He explains that his book, "Salvation Is From the Jews," sought to help Christians hold a deeper understanding of Judaism as both a religion and "a central component of Christian salvation." It seeks to show the "importance which Judaism has as God's own religion and the unique and central role it has in the destiny of all of creation."

Schoeman acknowledges that it is "least common" for Jews to choose Catholicism when opting to become Christians.

"Over the past few decades, the Catholic Church has tremendously backed off of anything which hints at the evangelization of the Jews," he said. "This wasn't always the case. There used to be various organizations in the Catholic Church to evangelize the Jew, to pray for the conversion of the Jews." But in wake of the Holocaust, in which the Vatican was faulted for being silent and even abetting the Nazis, the Jewish community grew more resistant to Christian evangelization, he said.

"They obviously see it as a threat," Schoeman said. "They see it as an apostasy and a threat to honoring God, but they also see it as a threat to their community and their integrity." The church "backed off" from such recruitment and is saying "such ridiculous things that the church has no mission to the Jews" or "there is no reason for Jews to enter the church" or "they already have their original saving covenant with God and they don't need Christianity," he said.

Schoeman said he grew up hearing the "black legends around the Catholic Church," including those related to the Inquisition, torturing of Jews and the Holocaust. "I had a negative attitude to all of Christianity, but particularly to the Catholic Church. It was like the epitome of the enemy."

There are no easy answers as to why Jews have rejected Jesus as the Messiah, he said, but it's known that a sizable number of them became Christians in the period after his death.

"Obviously the story told in the Gospels to Jewish authorities, by and large, was very hostile to the claims of Jesus, in part, because of their own selfish motives, the position they were trying to protect," he said. Schoeman pointed to Romans 11, that "God cast a veil over the eyes of the Jews so they would not recognize Jesus until the full number of the Gentiles come into the church and then they will raise the veil from the eyes of the Jews, and they, too, will accept Christ."

In his "ideal world," he said, "Jews would convert to Christianity because basically, every Jew who ends up in heaven will have converted to Christianity by definition. There is no heaven without Christ."

"God will bring about the conversion of the Jews at the right time — we know we are to do everything we can" in keeping with the "Great Commission" to make disciples by taking Christ's message to all ends of the earth, Schoeman said.

He supports the work of Jews for Jesus, a Messianic Jewish group strongly criticized by the Jewish community. "They find problems with me, I don't find problems with them," he said.

"I love the Jews for Jesus because they are doing what I want to do, which is to share the good news with my fellow Jews. They are burning with the zeal to bring other Jews to the joy, the fulfillment and the knowledge of God, which they have because they recognized Jesus the Messiah."

Schoeman emphasizes that the Catholic Church has evolved from Judaism's liturgical heritage. "The very first Mass was a Passover Seder" and "mirrors the structure of the Jewish liturgy to some extent."

"So it isn't as if I had become Buddhist or something. It is not apples and oranges. It is a nature progression and evolution," he said.



God is Spirit and Light.

See Bible references showing Jesus as God also. The same substance & light as the Father.



See the list of 365 Messianic Prophecies that Jesus fulfilled, here

See the most profound Video you will ever see. Only 15 min. The only way to get to Heaven. See here
Yacov Rambsel

(Visit Yacov's site)


Yacov Rambsel is a lifelong student of the Hebrew scriptures. He converted to Christianity over fifty years ago, and is now a pastor of a Messianic congregation in San Antonio, Texas
EXAMPLE OF Equal Distant Spacing:
*Note: Yeshua=Jesus in Hebrew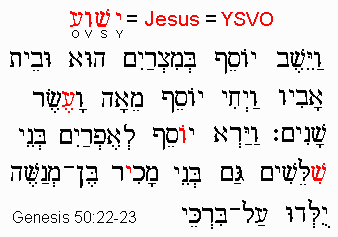 Above example shows: Jesus/Reverse-(OVSY) being spelled out at a spacing of 12 characters in Genesis 50:22-23:

See other Bible Codes and info here
BELOW IS Some of YACOV's

"Suffering Servant" data

from earlier book: "His Name is Jesus"
To the novice - it is important to note that the proximity to passages -- and how germane this is -- is beginning to startle even non-believing scholars.

It's very significant that the below were found in a very relevant area of Isaiah known as the "Suffering Servant" passages.


Note: 3 Marys were standing at the crucifixion
| | | | | |
| --- | --- | --- | --- | --- |
| Name | Begins Isaiah | Word | Letter | skip Interval |
| Yeshua | 53:10 | 11 | 4 | -20 |
| Nazarene | 53:6 | 11 | 3 | 47 |
| Messiah | 53:11 | 1 | 1 | -42 |
| Shiloh | 53:12 | 21 | 4 | 19 |
| Passover | 53:10 | 13 | 3 | -62 |
| Galilee | 53:7 | 1 | 2 | -32 |
| Herod | 53:6 | 4 | 1 | -29 |
| Caesar | 53:11 | 7 | 4 | -194 |
| The evil Roman city | 53:9 | 13 | 2 | -7 |
| Caiaphas, High Priest | 52:15 | 7 | 3 | 41 |
| Annas, High Priest | 53:3 | 6 | 5 | -45 |
| Mary | 53:11 | 1 | 1 | -23 |
| Mary | 53:10 | 7 | 3 | 6 |
| Mary | 53:9 | 13 | 3 | 44 |
| The Disciples | 53:12 | 2 | 3 | -55 |
| Peter | 53:10 | 11 | 5 | -14 |
| Matthew | 53:8 | 12 | 1 | -295 |
| John | 53:10 | 11 | 4 | -28 |
| Andrew | 53:4 | 11 | 1 | -48 |
| Philip | 53:5 | 10 | 3 | -133 |
| Thomas | 53:2 | 8 | 1 | 35 |
| James | 52:2 | 9 | 3 | -34 |
| James | 52:2 | 3 | 4 | -20 |
| Simon | 52:14 | 2 | 1 | 47 |
| Thaddaeus | 53:12 | 9 | 1 | -50 |
| Matthias | 53:5 | 7 | 4 | -11 |
| Let Him be crucified | 53:8 | 6 | 2 | 15 |
| His Cross | 53:6 | 2 | 2 | -8 |
| Lamp of the Lord | 53:5 | 5 | 7 | 20 |
| His signature | 52:7 | 8 | 4 | 49 |
| Bread | 53:12 | 2 | 3 | 26 |
| Wine | 53:5 | 11 | 2 | 210 |
| From Zion | 52:14 | 6 | 1 | 45 |
| Moriah | 52:7 | 4 | 5 | 153 |
| Obed (servant) | 53:7 | 3 | 2 | -19 |
| Jesse | 52:9 | 3 | 1 | -19 |
| Seed | 52:5 | 2 | 2 | -19 |
| Water | 52:7 | 9 | 1 | -19 |
| Levites | 54:3 | 3 | 6 | 19 |
| From the Atonement Lamb | 52:12 | 12 | 2 | -19 |
| Joseph | 53:2 | 1 | 2 | 210 |
Some Other Statements found in this same "Suffering Survent" Cluster:
"Gushing from above, my mighty name arose upon Jesus, and the clouds rejoiced,"

"Dreadful day for Mary,"

"In his name as he commanded, Jesus is the way,"

"Resurrection of Jesus, he is risen indeed,"

For above, Reference here
2 STARTLING FINDS- Praise Jesus!
In the "Suffering Servant" passage of Isaiah 53 where we read:
"He was wounded for our transgressions, he was bruised for our iniquities: the chastisement of our peace was upon him; and with his stripes we are healed"
---Yacov Rambsel found: Every 12th Letter in Hebrew spells "JESUS IS MY NAME"

Reference: The Genesis Factor
"NAZARENE" is also in the same chapter, along with seventy- four of the names, places, and events of the time period of Jesus of Nazareth!
"Yeshua Is My Name"

read more at Grant R. Jeffrey's site
A Startling Bible Code Find
"Yeshua Shai"
(Jesus the Gift)
"Who hath ascended up into heaven or descended? Who hath gathered the wind in His fists? Who hath bound the waters in a garment? Who hath established all the ends of the Earth? What is His name, and what is His son's name, if thou canst tell?"
(Proverbs 30:4)
What is His son's name? Starting with the first yod, counting every 22nd letter spells – you guessed it – Yeshua shai, which means "Yeshua, the Gift." Yeshua means Jesus in Hebrew. What's left to say?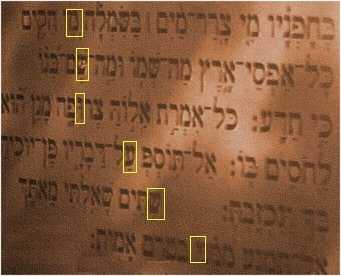 Grant R. Jeffrey's posted Comment at his site:
Yacov has made an astonishing discovery that God has encoded the names of Jesus and virtually everyone else that was involved in the tragic crucifixion of Christ over seven hundred years before the event. He found the encoded names of Jesus, the Nazarene, Messiah, the three Marys, the two high priests, Herod, Pilate, and many of Christ's disciples in one small prophetic passage - Isaiah 53 - the greatest messianic prophecy in the Old Testament. Furthermore, these names were encoded in Isaiah's prophecy in 740 b.c., more than seven centuries before Jesus was born. Can any unbiased observer of this evidence honestly claim that these codes refer to anyone other than Jesus of Nazareth?
These Hebrew codes do not contain any hidden theological or doctrinal messages.
Trying to tell the future in any form is strictly forbidden in Holy Scripture. Only search the past with these codes!
The phenomenon of the Hebrew codes has nothing to do with numerology. Numerology has been defined by the authoritative Webster's Dictionary as "the study of the occult significance of numbers." There are no secret sentences, detailed messages, or sentences about theology in the encoded words. God's message of salvation and His commandments for holy living to humankind are found only in the open words of the Scriptures.
One Must be a Christian to be Saved!

References for this is found in John 14:6; Acts 4:12, and 26:28; 1 Peter 4:16. One cannot be a Christian without verbally confessing the deity of Jesus the Christ. One cannot even pray to God, let alone have sins remitted by Him, without approaching Him through Jesus (John 14:6 and 13, 15:16; 16:23-24; Romans 5:2, and Ephesians 2:18).

I know Muslims and Mormons, Christian Scientists, Jehovah Witnesses, Unitarians, Scientologists, Jews, Muslims, Buddhists, Hindus, Seventh Day Adventists -and many others - will not want to hear this, but the Bible declares that Jesus was the FINAL revelation of God to man (Hebrews 1:1-3). There have been no others.
Dome of the Rock is the "Abomination of Desolation"
A real prophet's 2550+ year old prophecy hits a bullseye
1290 & 1335 days of Daniel
you won't put this book down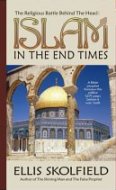 see this book: here

Supernatural proof the true God of the Bible and prophecy (Yahweh/Jehovah/I am/Jesus) considers Islam as an evil pagan religion. He is disgusted with those monstrosity's on the Temple Mount. And proof we are in the "end of days".
The Dome of the Rock is the "Abomination of Desolation" of the prophet Daniel's 1290 "day" prophecy. When the pagan Islamic Dome of the Rock and the al-Aksa Mosque were built on the temple mount, it made the temple mount "desolated" or contaminated. During Daniel's day, we know that Nebuchadnezzar destroyed the First Temple in 586 BC. We also know from Jeremiah that sacrifices occurred on the temple mount for some years after it was destroyed.

Dome of the Rock is the "Abomination of Desolation"
another supernatural revelation of God
1290 & 1335 days of Daniel
(Daniel 12:11-12)
Proof the true God of the Bible and prophecy (Yahweh/ Jehovah/I am/Jesus) considers Islam as an evil pagan religion. He is disgusted with those monstrosity's on the Temple Mount.



Daniel 12:11 "And from the time that the daily sacrifice shall be taken away, and the abomination that maketh desolate set up, there shall be a thousand two hundred and ninety days. 12 Blessed is he that waiteth, and cometh to the thousand three hundred and five and thirty days. 13 But go thou thy way till the end be: for thou shalt rest, and stand in thy lot at the end of the days."

The previous two versus tell us that we are in the "last days" before Jesus returns; because this prophecy was sealed till "the time of the end". And that there will be scoffers about the importance of this prophecy:

Daniel 9 And he said, Go thy way, Daniel: for the words are closed up and sealed till the time of the end. 10 Many shall be purified, and made white, and tried; but the wicked shall do wickedly: and none of the wicked shall understand; but the wise shall understand.

Daniel 12 (KJV) online: here



The "abomination of desolation" already happened exactly on schedule (Daniel's 1290 day prophecy). When the pagan Islamic Dome of the Rock and the al-Aksa Mosque were built on the temple mount, it made this holy place "desolated" or contaminated. This was built during the 685 to 705 AD period.

The formula for changing old testament 360 day years into our 365.24 day solar years is: x .9857

Daniel gave 2 numbers. The 2nd number 1335 - is the "double check," or checkSUM number: Subtract this figure from 1948 when Israel was reborn after 2500 years and then multiply it by .9857 and you get another significant year for the Jews, Christians and all of western civilization. This figure plops exactly onto the year the false prophet, Muhammad of Islam died, and was lowered into a grave in Medina.

A little after midday of 8 June, 632, the 62 year old Muhammad died in the house of his wife A'isha who he married when she was 6 (or 7) years old. Muslim historians back to the early 800's A.D. tell us that Muhammad consummated his marriage with A'isha when she was only 9 - when he was in his 50's. See the Muslim references for this: here

You may ask about the Lord's Olivet discourse on Daniels' prophecy in Matthew 24. See Ellis Skolfield's excellent answer here

Read more: here

Read this free ebook by Ellis Skolfield about the above. It's called, "The False Prophet". Read "Muhammad, Terrorist or Prophet?"
We know from Muslim historians themselves that any Muslim claim to anything in Jerusalem is made up.
Muhammad ibn al-Hanafiya (638-700 AD), a close relative of Muhammad, is quoted denigrating the notion that Muhammad ever set foot on the Rock in Jerusalem; "these damned Syrians," by which he means the Umayyads, "pretend that God put His foot on the Rock in Jerusalem, though [only] one person ever put his foot on the rock, namely Abraham."
For Christians. If you are having a problem with Daniel's prophecy of the "abomination of Desolation" vis-à-vis our dear Lord's Olivet discourse in Matthew 24, see the 80 year old author's (Ellis Skolfield) excellent answer at his web site: here

Read online: "The False Prophet"

Read about the Christian & Jewish Martyrs crying out to the Lord for Justice: here